Houston Chronicle, Aug. 8, 2000, 10:18AM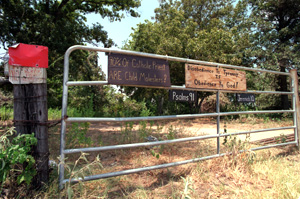 Darnell Jean / Special to the Chronicle
Gates at the entrance to John Joe Gray's property near Trinidad warn trespassers to beware.
Family holes up in bunker, evades court
By JIM HENDERSON
Copyright 2000 Houston Chronicle
TRINIDAD -- By most accounts, John Joe Gray lived a quiet life -- quiet except for the weekends when automatic rifle fire signaled militia training exercises -- with his family on a remote and wooded 47 acres fanning out from the Trinity River a few miles north of here.
He earned a living building houses and provided homes for his six children and their spouses on what is now being called his "compound." Except for occasionally commenting on his extremist anti-government views, his neighbors paid little attention to him. He rarely attracted the attention of local law enforcement.
Now, the 51-year-old Gray apparently is holed up in his compound, which is surrounded by barbed wire and fortified by a bunker ringed with sandbags, dodging two felony warrants stemming from an altercation with state troopers. He has dared the authorities to "come and get me" and warned them to "bring body bags."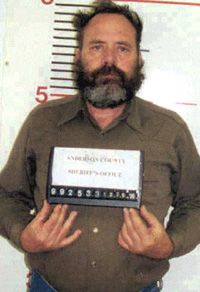 John Joe Gray missed his court appearances on two felony charges.
"Remember Ruby Ridge and remember Waco," says Bill Clark, a former city councilman in nearby Gun Barrel City who used to attend militia meetings at Gray's house. "Folks will just take so much. They've been pushed and pushed, but they are basically damned good people."
Not only is Gray a fugitive, but one of his daughters also has arrest warrants outstanding against her, and the family is harboring two of his grandchildren who were awarded to their father in divorce court 15 months ago.
In all, investigators believe 10 adults and six children are living in the two houses on Gray's property. For that reason, they have been hesitant to enforce the divorce court's custody order or to serve the felony warrants.
"We've got a serious situation here with some very serious threats made," says Henderson County Sheriff Howard "Slick" Alfred, a former Texas Ranger. "The children's safety is of primary concern."
Gray could not be contacted for an interview. He has no telephone service and did not come to the gate when a reporter attempted to get his attention by honking a car horn.
Although Gray was a leader in the Texas Constitutional Militia (he referred to himself as "Col. Gray"), and he traveled to Fort Davis in 1997 when the Republic of Texas separatist group was in a standoff with state police, he apparently did not appear on law enforcement radar screens until late in 1998.
Then came the minor brushes with the law stemming from the family's allegiance to a fringe, Oregon-based church called the Embassy of Heaven. The sect does not recognize government authority, even the authority to license drivers, register automobiles, issue birth certificates and Social Security numbers or to conduct civil courts.
In November 1998, Gray's 24-year-old daughter, Racheal Dempsey, was jailed in Tool on charges of driving without a license and having "fictitious" tags on her car -- they were issued by the Embassy of Heaven. She refused to answer questions or post bail and fasted until she was released a few days later. When she later refused to appear in court, three warrants were issued for her arrest.
Two weeks after that incident, Gray was stopped and cited for driving without a license and having no proof of insurance. Like his daughter, he refused to answer questions. He was released but didn't show up for a court hearing. Warrants were issued, but he was not exactly hunted down.
Essentially, some area residents say, the authorities simply backed away from the cases. The Grays were not considered dangerous. The family may have viewed the traffic confrontations as a holy war, but the cops considered them little more than nuisances.
Keith Tarkington, Gray's former son-in-law, believes there is another reason the authorities have taken no action. "I think the law is scared of him."
Difference in beliefs
Tarkington, 34, married into the Gray family in June 1995 and divorced himself from it last summer.
He and Lisa, now 30, had two sons and were happy, he says, even though he did not subscribe to his father-in-law's beliefs.
"He used to tell me, `You're either for us or you're against us,' " Tarkington says. "I would say, `No, I just don't believe that stuff and I don't want any part of it.' "
At first, he says, Gray's passion was the Embassy of Heaven Church, organized in 1980 in Oregon by Paul De Revoire, a former computer analyst who now uses the name Paul Revere.
The group does not recognize government authority and believes that secular government is in direct competition with God.
According to the Southern Poverty Law Center, which monitors extremist organizations, the Embassy of Heaven has about 400 members, a few of them in Henderson County.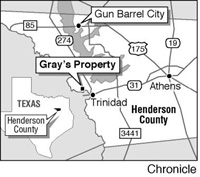 Later, Gray became involved with the militia and began wearing camouflage fatigues and amassing an arsenal, including assault rifles.
When he could not convert Tarkington to his beliefs, the son-in-law says, Gray began pressuring and "brainwashing" his daughter to leave her husband and return home. Tarkington, who is Catholic, believes his religion was also a problem for the Gray family.
On the gate to Gray's property is a sign that says, "90% of Catholic priest ARE child molesters."
Lisa, by her own account, made the decision to move back into the family compound April 9, 1999. Although she never formally responded to Tarkington's divorce petition, she sent a long, handwritten letter to the judge in which she wrote that "God would never let (Tarkington) see his children again" and that "it is pathetic to be Catholic."
She returned to her parents' home, she told the judge, on the night of her 29th birthday. She and her husband and two children had been to dinner and were stopped by a Tool police officer. Keith Tarkington was arrested on warrants for three unpaid traffic tickets.
Because she had no driver's license, Lisa called her sister and brother-in-law to come and get her. They took her and the children back to the Gray family home and Tarkington has seen his kids, Joe Douglas, 4, and Samuel, 2 1/2, only once since.
He went to Gray's house the next morning to pick up his family, but was not allowed through the gate. Lisa came out with the two boys and told him she wasn't leaving.
He went back a few days later, but his wife refused to let him see his sons. A month later, Tarkington filed for divorce. Lisa did not respond and, by default, he was granted the divorce and custody of the two boys.
After awarding custody to Tarkington, the judge issued a writ of attachment, authorizing sheriff's deputies to remove the boys from their mother's custody. The writ was never served and the court's custody order never enforced.
Tarkington frequently drives past the Gray house and occasionally observes it from a nearby plateau, hoping for a glimpse of his children.
Once, while he was driving along the dirt road, Tarkington says, Gray stopped him and told him, "If I ever see you on this road again, I'll shoot you."
Another time, one of Gray's sons jumped over the fence and vandalized his pickup.
Now, Tarkington believes, his children, like the others in the compound, are in danger because of another of Gray's run-ins with the law.
Felony charges filed
Last Christmas Eve, state troopers in Anderson County stopped a car for speeding near Palestine. The driver obeyed the command to get out of the car, but the passenger, identified as Gray, refused and had to be forcibly removed from the vehicle. He was wearing a gun in a shoulder holster and he scuffled with the two troopers, biting one of them on the hand and grabbing an officer's pistol, according to the troopers' report.
The car contained several weapons, including high-caliber pistols and assault rifles.
Gray was charged with two felonies -- assaulting an officer and taking his weapon -- and was released on bond. He retreated to his riverside home and failed to show for any of his court appearances. Finally, in May, felony warrants were issued in Anderson County, but by then, Gray had fortified his property with bunkers and was prepared for a long standoff.
Tarkington says his former father-in-law had laid in large supplies of food, fuel and ammunition in anticipation of the dreaded societal meltdown that would occur when the new millennium arrived.
"He used to brag that he could provide for his family for two years," Tarkington says.
Electricity and phone service to the house have been cut off because of delinquent bills and, as if to further isolate himself, Gray apparently removed the mailbox at the entrance to his property. However, some residents of the area believe Gray and his family are not completely isolated.
"I would bet that he has all the (generator) power he needs," Clark says. "And I imagine he has some form of communications."
Friends are delivering food to the house, some say, and others claim some of Gray's children still make trips into town for supplies.
"We've seen Lisa in Wal-Mart," says one neighbor, who asked not to be identified.
Investigators doubt that members of the family are moving about so freely. They are taciturn about their investigation, but some hint that the house is being closely watched.
Every few yards, a warning sign is posted on the barbed wire fence beside a dusty county road that runs past the Gray property: "Keep Out." "No Trespassing."
At the gate, another sign, addressed to "all public servants," warns that intruders will not be tolerated and that "survivors will be prosecuted."
Law enforcement officers confirm that Gray sent a message to the Anderson County district attorney telling him, "If you come on my property, bring plenty of body bags."
`This is a delicate situation'
The bonding company, which stands to lose nearly $300,000, has declined to send bounty hunters after Gray. The state Child Protective Services agency has declined to intervene, Tarkington was told, unless he has evidence that the children are being abused. The Henderson County sheriff's office and the Department of Public Safety have also declined to move against Gray, and the FBI has told Tarkington it has no jurisdiction.
"I can understand his frustrations," Henderson County investigator John Bell says of Tarkington. "But this is a delicate situation. We don't want to go in there gung-ho and get somebody hurt."
Still, he adds, the warrants will have to be served sooner or later. "We can't let him make a mockery of the law," he says.
Texas Ranger Steve Foster, who has worked with Bell, agrees that the stalemate can't continue indefinitely, but "this could turn into another Waco ... we don't want to get into that."
Tarkington's parents, Emma and Doug Tarkington, who live in Gun Barrel City, share their son's frustrations and impatience, but they also fear the outcome of a police assault on the compound.
"He has got to be dangerous," Emma Tarkington says of Gray. "He must be getting pretty desperate."
Gray's old friend, Bill Clark, who now lives in Oklahoma, argues that the real danger is from outside the compound.
"I can't condone everything they've done," he says, "but they're fine folks. They look after their own and they respect God's commandments. They just really want to be left alone."
But, he says, if challenged, they probably would fight. "They are good hands in night combat," he says. "The women are, too. They've had a lot of training."
Anderson County District Attorney Doug Lowe, whose job it is to prosecute Gray on the felony charges, acknowledged that the authorities are "walking on eggshells" to avoid a confrontation.
"Our goal is to get him back before the courts and give him a fair trial," he says. "We would like to have a resolution, but ultimately, the federal people probably will have to deal with it."