John and Mary Steward-of-Jesus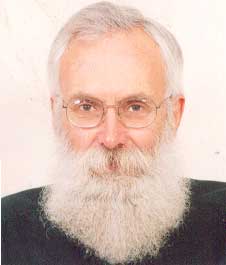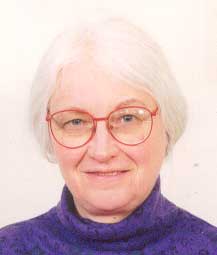 ---
In Loving Memory
John Steward of Jesus
Passed from this earth on January 27, 2012
John departed as he lived, peacefully, with his wife Mary beside him. He was 71. He had been sick for months, but did not find out he had colon cancer until about a month before he passed.
Many of you have talked to John about the Kingdom. He was always eager to fellowship with seekers. He showed by his courageous life that he needed no other government but the Kingdom of Heaven.
In the early nineties, John and his friend Samuel traveled out from the Midwest. They burst on our doorstep and announced, We traveled half way across the country to check out all this buzz about the Kingdom. Is this really a movement of God and are you anointed by Him?
Then they started drilling us with specific questions. As we expressed what God had revealed, Samuel jumped to his feet, raising his hands and praising the Lord. John sat quietly pondering these things in his heart and said, Then I dont live in the state of Kansas. I live in the Kingdom of Heaven.
Not long afterwards, John concluded that he could not keep his nexus with the state so the driver license must go. He had been pastoring a Mennonite congregation and announced to the board that he could not in good conscience renew his state driver license. The board took swift action and sent him packing. He left the state behind and started painting houses. But his true devotion was preaching and living in the Kingdom of Heaven.
For example, there had been much discussion about the passages in the bible concerning weapons. Jesus says at Luke 22:35-38, "If you don't have a sword, sell your cloak and buy one." Was Jesus now advocating the use of violence for self-defense?
It was John Steward of Jesus who pointed out the context of the scripture. The reason for the swords was not for self-defense or to start a rebellion. The purpose of the swords was to fulfill the prophesy that he was to be numbered among the transgressors (verse 37). See Taking Up the Sword.
We will miss John dearly. Though his physical body is gone, he has left behind many thought-provoking articles at Steward of Jesus.org.
---

Sunday, Feb 5, 2012 2 : 49 AM
Published: 1/27/2012 10:17 PM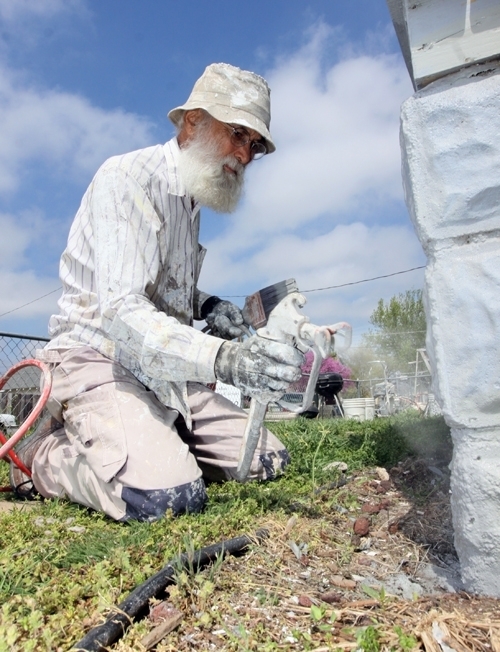 John Steward of Jesus died Friday.
Painter lived life in 'God's kingdom'
By Kathy Hanks - The Hutchinson News
John Steward of Jesus breathed his last on Friday.
The 71-year-old man with the flowing white beard and paint-splashed clothing often could be seen pedaling around Hutchinson on his recumbent bike, with ladders and paint cans strapped onto a trailer pulled behind. He stayed very busy as a house painter.
But he had not been visible riding along Main Street in recent months; his last outing on the bicycle was in October. He was experiencing health issues and just before New Year's learned he had colon cancer, said his wife, Mary Steward of Jesus.
He chose to treat the cancer with alternative natural medicine and was nursed by his wife. Though housebound, he looked forward to visits from his brothers and sisters in the Lord.
John Addink came to Kansas from northern Iowa with his wife, Mary, to serve as a pastor at Buhler's Hebron Mennonite Church back in 1989. In 1992 he left the ministry and dropped Addink as his last name, which he had lived with from his birth in 1941.
At the time, he was seeking answers to some of the soul's deepest questions. During that period, he evolved into a person who no longer wanted to be part of a world that historically was made up of armies, weapons and power structures, nor did he want to participate in any established government.
"I live in God's kingdom where Jesus is Lord," he said.
John Steward of Jesus had no state-issued ID or documentation of any kind. He decided 17 years ago to ride a bicycle. He had no objection to driving, but it wasn't something he chose to do.
John Steward of Jesus began working for Eli Jay Yoder, owner of Yoder's Painting. In 2000 he went off on his own, slowly growing his house-painting business. His simple sign in yards where he was working was his only advertising, except for a small classified ad in The Bee. His work spoke for itself.
"He was the closest person to God that I've ever met," said his son, Dirk Addink.
He lived his life never compromising what Jesus wanted him to do, said David Roper, his brother in Christ.
"That was his life's conviction and what drew me to him," said Roper.
He recently told Roper, "I like the words 'I am a follower of Jesus.' "
---

Published: 4/14/2010 10:32 PM
(Sandra J. Milburn/The Hutchinson News)
Living by faith alone
His devotion to Christ leads man down independent path
By Kathy Hanks - The Hutchinson News
In the yard is a simple sign in black letters, "Painting by John Steward-of-Jesus."
Parked close by is John Steward-of-Jesus' transportation, a recumbent bicycle.
The man in the flowing white beard and paint-splashed clothing can be seen pedaling around Hutchinson on the bike, often pulling several folded ladders on a trailer behind.
On a recent morning he was intently working, gliding the brush back and forth, applying a gray oil base paint to a porch floor at 10th and Madison.
He never appeared distracted from the painting while offering a lesson on the difference between oil base and latex paint, and why oil base was best for a porch floor.
John Steward-of-Jesus offers many lessons as he works. Some have to do with painting houses, others with living his faith.
He explains that life is a matter of finding God's will and doing it. For him, that defines every moment of every day.
"We feel most free when we are committed to his will. Even if it's painting a step in the sun and the breeze, we can't ask for more," he said, sitting on the bottom porch step, smiling up at the sky.
A different walk
A man who obviously has given his share of sermons, he sometimes speaks in the abstract. John Addink came to Kansas from northern Iowa, with his wife, Mary, to serve as a pastor at Buhler's Hebron Mennonite Church back in 1989.
At the time, he was seeking answers to some of the soul's deepest questions. During that period, he evolved into a person who no longer wanted to be part of a world that historically was made up of armies, weapons and power structures, nor wanted to participate in any established government.
"I live in God's kingdom where Jesus is Lord," he said.
In 1992 he left the ministry and dropped Addink as his last name, which he had lived with from his birth in 1941.
He became John Steward-of-Jesus.
"He was ready to change lifestyles and become less worldly, and that's exactly what he did," said Patricia Macke Dick, Reno County district judge, who was a member of Hebron Mennonite Church at that time he served as pastor.
She recalled him as a "great pastor, and Mary the consummate pastor's wife."
But he was very strong in his beliefs of his place in this world and things that were worldly.
"I admire him so much," Macke Dick said.
"Anybody so strong in their faith to follow that road less traveled. Who could ever fault them for that?"
As they decided to become less worldly and conform less to governmental edicts, they changed their names to John and Mary Steward-of-Jesus.
The couple wanted to stay in the area while their daughter finished Central Christian High School. Since then, they have decided Hutchinson is a good place to live.
John Steward-of-Jesus began working for Eli Jay Yoder, owner of Yoder's Painting.
Yoder recalled John Steward-of-Jesus as one of the fastest painters on the crew.
"He's a neat sort of fellow," said Yoder. "He has real strong convictions about government documents."
John Steward-of-Jesus has no state-issued I.D. or documentation of any kind, including no driver's license. He decided 15 years ago to ride a bicycle. He has no objection to driving, but it isn't something he chooses to do.
In 2000 he went off on his own, slowly growing his house painting business. His simple sign in yards where he is working is his only advertising, except for a small classified ad recently in The Bee. His work speaks for itself. Prospective customers will drive by slowly as he is finishing up a job and ask for his card.
Day by day
Finishing one house, John Steward-of-Jesus heads to his home, just a block off Main Street, for a lunch break, before pedaling over to work on a house on Avenue A.
In the backyard, sheets on the clothesline billow in the wind like sails. An orchard of blooming fruit trees surround his home where grape vines grow over the roof. They use all outdoor space for flowers, fruit trees and vegetables. While the Stewards-of-Jesus live simply, they also have a very comfortable home filled with books, plants and Mary's weaving looms. The Internet was on the fritz, but they do have a computer, TV and telephone.
After working alone for eight years, two years ago he added several to his crew. They are young men who worship with the Stewards-of-Jesus. Several times a week they meet for fellowship, potluck supper and Scripture reading. There is no doctrine or creed that defines the gathering.
"We're all here to learn the will of the Lord and help each other grow in that life," he said.
While he is no longer their pastor, the Macke Dick family considers John-Steward-of-Jesus their go-to painter.
"He is amazingly good, reasonable, and the most honest man you would ever meet," she said. "They are wonderful people. Very courageous, not worrying about what the world thinks, but doing what they believe is right.
"They are very bold in their faith. More of us could follow their example."


https://www.stewardofjesus.org/
TSA communications
(Posted here on March 12, 2009)
December 24, 2008
To: The Transportation Security Administration (TSA)
My wife, Mary Steward of Jesus (Stewardofjesus in some records) and I, John Steward of Jesus, have been Northwest Airlines Frequent Fliers for more than eight years, during which we have logged more than 100,000 miles combined.
We have chosen to live in the kingdom of heaven as followers (disciples, servants, stewards) of Jesus Christ, whom we recognize as our living king, here and now.
In obedience to the will of our king as we understand it, we live as peacemakers in his kingdom. We are not citizens or residents in any of the coercive kingdoms of the world. Therefore we are not able to obtain any photo identification commonly recognized in airport screening.
All our travel as Northwest Frequent Fliers has been done with passports and other identification issued by followers of Jesus in the kingdom of heaven. Our documents have been examined and photocopied many times over the years by your agents and Northwest agents, and can be verified at records.EmbassyofHeaven.Org
We have learned to allow time for the screening, examination, cross-examination, and interrogation which we often experience at airports before we are permitted to proceed to our destination, as we have always been allowed to do.
Our most recent flying experience followed a family gathering in Iowa. We had tickets (Confirmation Number 27W7JU) to travel on Northwest flight 2771 from Sioux City on December 11, 2008, with my sister, Marilyn Moore, and her husband, William Moore, to visit them at their home in Florida.
Our flight was scheduled to leave Sioux City at 10:56 am. We arrived at the airport two hours before then and checked our luggage with the Northwest counter agent. We had hoped to proceed with TSA screening. Your screening line was not scheduled to open, however, until 10:15. We were at the head of the line. The time remaining was not enough for TSA to complete its interrogation and cross-examination. My sister and her husband boarded and left as scheduled. My wife and I were cleared just in time to board flight 2773 to Minneapolis around 1:00 pm. As a result our arrival at Tampa was delayed more than six hours, at great inconvenience to all of us, as we were depending on my sister for transportation to her house.
The screening, interrogation, and cross-examinations in Sioux City took more than two and a half hours. Participating were TSA Supervisory Officer Rossiter, Sioux City Police Department Uniformed Services Bureau Officers Jim R. Clark, W. Erickson, and K. Bonowski, and Sgt. John Pepple, retired from the Sioux City Police Dept., now working with Sioux City Night Patrol. Those uniformed officers told me that the information we provided them would expedite future screening and permit us to travel without such delays in the future.
On our return trip our screening at Tampa was short and pleasant. I was encouraged to learn that officers at Sioux City had called Tampa and facilitated the process. In passing through Sioux City I inquired of TSA Supervisory Office Rossiter and learned that he had been told in a telephone conversation with his superior that the needed information would be entered into your data base and available in the future to similarly facilitate the screening when we are scheduled to fly.
I have written all this as background information before making two requests:
Please confirm that the needed information is now available in your data base.
Please tell me what I should suggest to TSA agents in the screening line at the airport in order to facilitate the process when they notice that our photo identification is not conventional.
We appreciate what you are doing to help keep airline travel safe for everyone, and thank you for your attention to this matter.
May you be given wisdom in all your decisions.
John Steward of Jesus
in the kingdom of God
via 21 East 13th. Avenue
Hutchinson, KS 67501
---
January 14, 2009
To: TSA-Contact Center
Recently my wife and I spent time at Grand Rapids, Michigan, to attend the wedding of a nephew. We left Grand Rapids the afternoon of January 13 on flight NW1031 to Detroit.
When we passed through TSA screening three of your agents spent an extended time asking us about our telephone number, postal address, how long we had had that address, the name of the mortgage holder, the county, and names of our neighbors, and then making telephone calls regarding the information we gave them.
If it is possible, it seems to me that it would be better for all of us to shorten this process by entering information in your data base confirming that our identification is reliable. Would that be possible?
Regardless of when you are able to answer my questions, please acknowledge immediately by return email that you have received this communication (and that you received earlier the communication below?).
Again, we thank you for your attention to this matter.
John Steward of Jesus
---
March 12, 2009 footnote
I have not received a response to these emails.
I spent hours calling the TSA Contact Center on February 13, February 20, February 25, March 5, and March 11. In the first four calls I was told that I would receive a response soon. When I called I was usually asked to give a call-back number in case the connection was lost. Several times there was an apparent disconnect. They never called back. I called back each time except the last call, when there again was an apparent disconnect as I was waiting to be transferred to an Assistant Federal Screening Director. The customer service representatives repeatedly told me they were not permitted to give me information for more direct telephone or email contact.
John Steward of Jesus

Passing Airline Security with Kingdom of Heaven Passports
Delays, red-tagging, frisking, and inconveniences. Yet, also an opportunity to bring awareness to the reality and availability of the Kingdom in which freedom is found.
Our travel dates - November 10 and November 17 of 2007.
Greetings to all in the name of the risen Savior.
Mary and I recently returned from travel from Wichita, Kansas to Tampa, Florida, where we were blessed to spend time with six of my eight siblings and their spouses, and my aged parents, who were able to make the trip from Iowa.
Traveling as we do, with Kingdom of Heaven passports issued through the Embassy of Heaven (EmbassyOfHeaven.org), means that we never know what to expect when going through airport security. The official line is that "government issued" identification documents are needed. Our documents are issued under the authority of the government which we have chosen and recognize. The difficulty is that our government is not officially recognized by the kingdoms of the world.
When we presented our tickets and passports to the Northwest ticket agent at Wichita, he said, "I need government-issued identification. This is not government-issued identification." As I recall, I said that it was the government under which we live. He repeated what he had said before, and asked if we had other identification with us. We said we did not. He looked at my wife and said, "I need government-issued identification." She shrugged, lifted her hands slightly, and said, "That's all that I have." He then said rather quietly, "I can help you." He looked at me and asked, "Do you know what you are doing?" After a pause, I said I wasn't sure what he meant by the question. He said (still holding our passports), "This is not a recognized government of the world." After a slight pause, I said, "That is true."
From that point in the process it was clear that the agent was doing what was necessary to facilitate our arrangements. It was an extended process, partly because our flight had been canceled and we were put on a flight two hours later. He went into a back room through a door and took some time there. He had an assistant make three copies of our passports and other documents. He called a higher office for directions in a special case such as ours. During the process he received a printout of about a page regarding our case, which he immediately turned over so I could not read it. He gave us the new tickets, made sure that our luggage was properly tagged, and explained all the revised arrangements to us. This was all done patiently and courteously.
As always, we were "red-tagged" so that we were selected for special screening when passing through airport security, staffed by TSA. That meant being frisked, having carry-on bags and shoes wiped with tissues which were tested for drugs, and passing through metal detectors. Other than that inconvenience, we moved on, boarded the plane, went through one plane transfer, and arrived at Tampa on scheduled time.
Return Flight Rituals
Because I did not have access to a printer while at Tampa, I was not able to print our boarding passes from the airline web site. I did this at a kiosk immediately in front of the ticket counter, which meant that our luggage labels were automatically printed on the other side of the counter for the agents. They asked for our name, put the appropriate labels on our luggage standing before them, and sent us on our way without even looking at our identification documents.
We proceeded to the ritual of passage through airport security. In all our previous experiences, their work seemed to be focused on confirming that the name on the ticket corresponded precisely with the name on the identification, and that the time and place named on the ticket were appropriate. Several times TSA workers had commented on the interesting and unusual nature of our passports, without implying that it was their function to question their legitimacy. This time our experience was quite different.
The TSA worker who first met us said he needed identification documents issued by one of the states or by the U.S. government. He asked for any other documents we had with us which would meet this need. We had none. He referred us to a worker standing in the area who apparently had review authority. She repeated the same need, and asked for any social security documents, voter identification papers, drivers licenses, or anything else issued through such governments. I said we had none because we didn't participate in any of the coercive governments of the world. She called in a worker with still higher review authority.
Our interaction with him took fifteen to twenty minutes or more. My wife and I both thought at times that it might be our first experience of leaving an airport because we were prevented from boarding a plane. He forcefully said in many ways that he needed photo identification issued by government, that it was our responsibility to prove that we were the people named on the tickets, that the requirements were firm and left him no option, that he could appreciate our position but could do nothing to help us, that we simply would not be permitted to pass through the security area of the airport without the required identification. He suggested that we might talk with the airline to see if there was a way for us to get on the plane without going through the security area of the airport. I asked him if he knew of any such possible way. He did not.
My opinion is that he simply wanted us to leave and be gone. I asked if the problem was caused by a technicality or by a concern that we might be dangerous with phony identification. He said there was a real concern. I asked if they could check the records of the airline to confirm our many travels, or call someone in Kansas to confirm our identity. He said it was not their responsibility to check us out, but our responsibility to present acceptable proof. I asked whether all this was something new. He said, yes, they are now cooperating with the coast guard and using new procedures to tighten security.
As I recall, there were at least a couple times during all this that he was spending time in a conference area with other workers while we were left standing and waiting. I intended to imply by remaining there that I thought it was proper for us to board the plane, and that we would remain there until we were ordered to leave and told that remaining would subject us to legal charges. Whether or not he had this impression, he finally said that he knew of no solution but would ask his manager to come over.
She came over, confirmed several details of our previous conversations, and said she knew from what she had learned that we sort of have our own church and are not a part of other governments. She said she would have the airport police review us for security risks, and that if they approved we would be able to board the plane. I thanked her for her interest and for her efforts to facilitate the matter. I asked her if she could make any suggestions regarding anything someone like me (not a citizen or resident in any kingdom of the world) could do to make such a process easier in the future. She replied that she didn't know of anything.
Date of Birth
The airport police officers (part of the local police force) who continued the interaction had a pack of papers related to us that looked to me as if there were at least ten to twenty pages, with my picture on the front. Someone had obviously been spending some time on the matter. I was told that to check on our identity they needed a date of birth. I replied that in the kingdom of heaven we aren't using dates of birth, but dates of baptism (or initiation, or beginning of identity, or regeneration) for reference. That date is on the passport. The officer said he needed a date of physical birth.
After further discussion, he asked whether I was unable to provide such a date. I said that within his system I have no date of birth. He said he could accept that. For reasons I don't understand, there was a discussion of where we obtained our tickets. When they learned that they had come out of the kiosk by the ticket counter, they were satisfied. A bit later there was a focus on where I was born. I said I was born in the kingdom of the Lord Jesus. Somewhere in the discussion there was an observation by them that I did not recognize the sovereignty of the kingdoms of the world. I said I accepted their sovereignty within their jurisdictions, but that I remained outside those jurisdictions.
Continuing the search for a place of my birth, and understanding that I did not identify subsections of the earth with state names, the lead officer said he would rephrase the question, and asked whether most people would consider the land on which my body was born to be a part of one of the united states. I agreed that most people probably would, though I would not. It was that which seemed to fully satisfy him. In further friendly discussion, he told me that he recognized that we had a constitutional right to travel as we were, even without providing a date of birth.
Native "Inhabitants"
This last part of the experience further supports my impression that among the kingdoms of the world there is significance attached to the land on which one is born. They hesitate to expel anyone from the land of his "birth." Native "inhabitants" are given a certain respect. This may be part of the implied understanding they have with the Creator of the land and its inhabitants. How a man determines how far someone else's native land extends is a matter deserving our serious thought.
In the concluding moments of what had then become a friendly exchange, I asked the police officer whether he could put a note in the airline records or in other records available to security officers to make such a process easier for us in the future, or whether I could do anything else to help. He replied that while he knew that there was a constitutional right for us to travel as we were, and that it could not be prevented, the reality is that it may always be subject to such delays and inconveniences. He could make no suggestions for improving the situation.
While I do not covet any further experiences like these, I will be available as they are put before me, and rejoice in the knowledge that the Spirit may use them to make others more aware of the reality and availability of the kingdom in which freedom is found. And I rejoice and give thanks that in this case I could proceed on my way, be blessed with time with my family, and return home safe and joyful.
May our Creator and Redeemer be praised!
John