Ambassador Thomas Hubert Nelson

The Monahans News
Serving the Oasis of the West Texas Desert
Volume 67, Number 39
Monahans, Texas 79756
Thursday, September 24, 1998
Heaven's plate prompts arrest
Thomas Hubert Nelson, 43, a self-described minister of the Church of Heaven's Embassy, sits in the Ward County Jail in lieu of $1,000 bond.
He refuses to recognize the secular courts of Texas and the County. He does not see why he cannot drive with Kingdom of Heaven License Plates on his 1983 Chevrolet coupe and operate a vehicle with a drivers license issued by the same Kingdom of Heaven. And so far, he has refused to cooperate with Ward County and state authorities. Nelson is not aggressive about it. He just doesn't cooperate.
He is charged with operating a motor vehicle with a fictitious license plate (the Kingdom of Heaven plate), operating an unregistered vehicle, although it does seem to be registered to the Kingdom of Heaven, and having no liability insurance.
For those who might wish to know, the documents Nelson carries say Heaven is at 8777 Basl Hill Road Southeast in Stayton, Ore.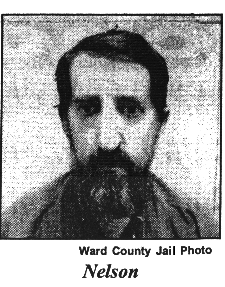 The bizarre tale began the evening of Thursday, Sept. 10, about two miles West of Monahans on Interstate 20 when Department of Public Safety Trooper Mark Gerek of Monahans pulled over an old car with no license plate light. Nelson was driving. Frustrated by the driver's insistence that Kingdom of Heaven license tags, drivers licenses and automobile registration documents were valid anywhere in the universe, Gerek took Nelson to Justice of the Peace Ronold Ray in Monahans. Ray recalls that it was about 11 p.m. Ray asked how Nelson pleaded to the charges.
Gerek remembers Nelson saying: "No Mustard." That's right, "No mustard." Ray thinks he might not have said that. Justice Ray thinks Nelson may have said, "This doesn't pass muster." Either way, it wasn't a plea so one of the misdemeanors on which he is held was elevated a degree so Nelson could be held for a date in County Court which has not yet been set. Nelson apparently is from Leslie, Ark. He is on good terms with the Kingdom of Heaven in Oregon. He carries documents indicating he at least is familiar with the so-called militia or freemen movements. On Friday, Sept. 18, a strange writ of habeas corpus arrived on Nelson's behalf in the office of County Judge Sam G. Massey. It came from Jericho Spring, Mo., a center of militia activity.