Embassy of Heaven Staff Taken at Gunpoint

Enterprise-Record
Friday February 19, 1999
God's law, state law collide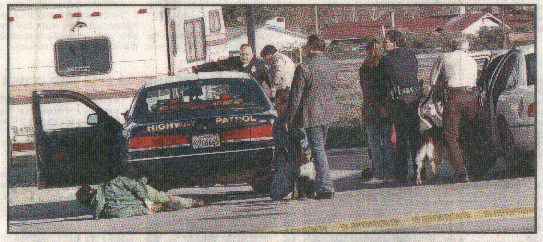 Law officers take handcuffed occupants of the motor home, background, into custody Thursday at County Roads 200 and HH west of Orland after halting the vehicle after noting it bore an illegal license plate. The apprehensions were made at gunpoint after the occupants ignored officers' orders to come out. The suspects are members of an Oregon religious sect.
Illegal license plate brings trouble to religious group which recognizes only divine authority
| | | |
| --- | --- | --- |
| Members of Oregon's 'Embassy of Heaven' sect held at gunpoint | | This license plate attracted the attention of law officers and started a traffic stop that resulted in six occupants being taken into custody. At the top, where the issuing authority is usually indicated, is 'Kingdom of Heaven'. Below are the words 'Depart from Iniquity'. The seal in upper right says Embassy of Heaven Church, Sublimity, Ore. |
By Patsi Brown
Staff Writer
ORLAND - The laws of God practiced by an Oregon-based religious group and the laws of California Highway Patrol and Glenn County Sheriff's Office units came into direct conflict Thursday afternoon and resulted in the detention of six Embassy of Heaven church members - five adults and a juvenile.
A CHP unit attempted to pull over a motor home southbound on I-5 Thursday afternoon after noting it had an irregular license plate - issued not by a state but by the "Kingdom of Heaven."
As the vehicle did not immediately pull over, but traversed down the freeway until exiting west at County Road 200 and stopping at a Union 76 station there, authorities interpreted the incident as refusal to yield.
With guns drawn and commands shouted, officers ordered the people out of the vehicle. Initially, they refused to exit; then one got out - cab passenger Paul Revere, pastor of the group, the Embassy of Heaven church, based 20 miles east of Salem, Ore., at a location called Sublimity.
Shortly after 8 p.m., the Glenn County Sheriff's Office in Willows released Pastor Revere, daughters Brooke and Skye and Embassy members Abraham and Michael. Driver Glen Stoll remained in custody as did the group's van which also served as their home on the road.
The commotion at the Orland Union 76 caused station employee Wendy Ferreira to hit the deck behind a cigarette machine in the mini-mart and stay put for 30 minutes until a sheriff's deputy told her she could leave - crawling to the door then running to a car that had come to retrieve her to safety.
An hour later, she was back on the job.
Ferreira couldn't see what happened, but a spokesman said after enlisting the aid of a CHP K-9, all others came out. Revere's two daughters, one in her teens and one in her 20's, and two males exited from the back of the motor home. Driver Glen Stoll joined them.
Officers contacted at the county's adult detention center early Thursday evening expressed their frustration at not getting pertinent information - like dates of birth - from the group in order to book them into the jail.
Later, a CHP sergeant said the information gathering was at a standstill; specific charges against the six were as yet unknown, he said, and all six claimed the last name of Revere.
According to Pastor Revere's wife, Rachel, speaking by phone from their Oregon home, the group believes, birthdates are immaterial as they have been born again and all things are new in Christ.
Married since 1971, Rachel said she and her husband each received revelations from God in 1987 to begin a different life - one separated from the world - more like the early Christians or the Anabaptists; they don't believe in man-made governments.
"All the men (there are 400 missionaries who go all over the country to spread the Embassy of Heaven message) have been arrested. We don't do bail. They fast and pray and hold steadfast to the faith."
Mrs. Revere said she was sorry the situation got out of hand. At the scene, one member noted they had been pulled over several times since the license plate had been issued in 1993, but they'd never had guns drawn on them before.
She noted that the ongoing battle - the license plate issue and their basic separatist beliefs - sometimes made for a hard life, but it was a life fully lived in Christ by faith.
The six in the van were on their way to preparedness meeting at CalExpo, a combination approach to both Y2K possibilities and the need for spiritual strengthening, Mrs. Revere explained.
A three-day event with several seminars, speakers and vendors, the Sacramento session is one in a series the messengers have attended over the last five years, she said.
Embassy of Heaven made the Oregon news two years ago when they disputed their need to pay Marion County property taxes on the group's 34 acres. The situation escalated with an invasion of armored vehicles and SWAT teams who ultimately turned out the women into the rain and sent the men to jail, Mrs. Revere related.
Subsequently, their buildings were burned, the property was confiscated and harvested of thousands of feet of timber and turned into a nuclear waste dump. Mrs. Revere said the county records are sealed and no record of their ownership of the parcels exists, even though she has the original deeds.
About the group's adamant stance in refusing to give birthdate and name specifics, she concluded, "I pray they'll be firm in their faith."
The church's handcuffed pastor, Paul Revere, is taken to a patrol car for transport to a detention center in Willows. Five of the motor home's six occupants were released Thursday night.

E-R photos by Ty Barbour
| | |
| --- | --- |
| | A close-up of the California Highway Patrol car used to come against the Kingdom of Heaven. Notice the license plate number - 906665. |
Traffic Stop at Gunpoint

Paul, Rachel, Brooke, Skye, and Abraham tell their firsthand story about being stopped by the California Highway Patrol at gunpoint.

It all began by traveling down the highway to evangelize at Sacramento, California. Listen to this 47-minute program for more details.

T9909 - Traffic Stop at Gunpoint